Jim Kelley from Sports (except Hockey) Illustrated is the most recent "journalist" to jump on the
bash the Isles bandwagon
. I guess it's easy nowadays to talk about what happened in the late 90's with this team and continue those thoughts through to present time. As a fan, I can agree that it's been a fiasco, changes in ownership, hoistgate, fishsticks, Milbury. There is a lot of good material there for lazy hacks, looking for an easy story. The thing is, it's old news, the team has turned the corner and many reporters choose not to look at the bright side, instead they continue to harp on the bad. Let's take Ted Nolan for example.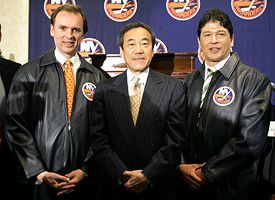 Everyone in the OrganIzation knew it was time to change the course and rebuild. Everyone except Teddy. Keeping a guy that clearly is not on board with the future of the team would be disastrous. Instead everyone's painting Teddy as a victim to the idiocy of the higher ups. There was a reason Nolan was out of the league for so long, and this recent tenure behind the bench only proves how big Nolan's ego is. Good luck catching him behind an NHL bench anytime soon. Another topic everyone loves to bring up is Neil Smith. Where is he now? What team is he the GM for? There have been several opportunities for Neil and there's a reason he is not currently in the league. "Well Smith one the Rags a Cup." I say whatever to that. He did not help the team's future, he asked Mark Messier who he likes playing with. Kevin Lowe, Adam Graves, Glenn Anderson, Craig MacTavish, Esa Tikkanen. Looks like the New York Oilers to me. Not too hard to win a cup when you compile a core of players from a recent Stanley Cup winner.
Bashing the Isles is a new tradition among sports writers and it's about time these guys checked the stats. Here's a good one:
Since the 2001-2002 season, the Islanders have a better record than the perennial Stanley Cup Contending Rags.
W L OTL T PTS
NYR 223 197 21 51 518
ISLES 226 199 30 37 519
That's right, the Isles have had more wins and more points than the Rangers over the past 6 seasons. Instead of beating someone when their down, how about looking up the stats and writing a new story.